Barbering Courses Near Me – Get Trained and Start Amazing Hair Cutting
June 3, 2022
2022-05-23 10:36
Barbering Courses Near Me – Get Trained and Start Amazing Hair Cutting
Haircutting and styling are the growing industries in the personal care industry. This is why young people are taking barbering courses. Another reason is demand for a skilled hairstylist is very high.
Whether it is women or men, nowadays, people are very cautious about their looks. They like to stay polished. A perfect hairstyle makes a person looks effortlessly stunning.
People are conscious about their hair and its grooming. This is the reason why the popularity of the hair industry is so high. The haircutting and styling industry is one of the parts of the fashion industry. A fashion is not complete without a suitable hairstyle.
What is barbering courses training? 
It sounds pretty simple, right; barbering courses! But it is not that easy. Because a barber is working for others. So, it is essential to fulfilling a customer demand as a hairstylist.
A customer's health is also essential. This is why sanitization of the kits and cutting free hairstyles are not easy. You need to take a barbering course to become a successful hairstylist.
Barbering courses teach people how to cut hair according to people's facial shape. In barbering courses, people learn how to provide a safe and cut-free service to the customers. You need to know how to use the scissors and trim kits. Many online barbering courses are available these days.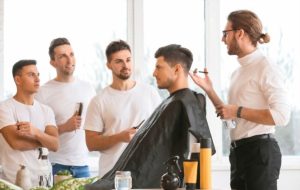 After covid everyone seeks courses, they can pursue from home and save extra hours. The barbering courses are not different. People are learning barbering courses from home.
Ten benefits of learning a barbering courses
1) Daily Need of a Barber-  Grooming your hair and beard is not all about style. The primary need for cutting hair and beard is to maintain your hygiene. This is one of the reasons that secure your earnings as a barber.
Barber is an essential job. After becoming a barber, you provide a helpful service to your customers. And the need for a barber will never get decreased.
2) Skill is Essential- You need to achieve a good skill by learning a barbering course. You need to provide good service to the customers. You need to understand their requirements. For this, you need to communicate well with them.
After becoming a barber, you need to be updated with the latest trends and styles. You also need to understand how to run a salon and make a long-term relationship with your customers.
3) Become an Artist- Becoming a barber is just not about earning money. This is a profession where you can express your artistic mind. You can show off your skill. You will get to do something unique. You can impress others with your exceptional work.
4) Be Your Own Boss- As a barber, you can work as a freelancer. You do not need to work under anybody or any organization. You can open your own shop. You can work for yourself or others. You have the freedom to choose your organization.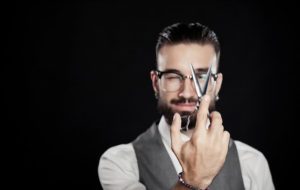 5) Job Opportunity- As a barber, you can work anywhere in the world. As haircutting is a basic need, you can provide your service anywhere. You can gather experience by joining an international barbering seminar.
6) Every Day is Exciting- As a barber, you will meet new clients every day. Their demands will be different and challenging. So as a barber, your days will be challenging also. You need to make your client happy with your skill.
7) Secure Income- Cutting your hair is necessary, not a luxury. So as a barber, you will be full of clients. You can make a decent amount of money. You can increase your income by providing modern haircuts besides the usual ones.
8) You Can Join the Fashion Industry- As a barber, many options will be open for you. You can join any famous barber brand. You can work for several photo shoots or fashion shows. There will be a huge chance to create your brand.
9) You Will Always Have a Job- As a barber, you provide an essential service to the people. Your profession is all about your skill. So there will be no chance that you will lose your job. You can continue your work anytime and anywhere.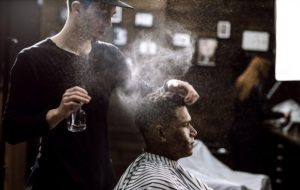 10) Meet New People- After becoming a barber, you will meet new people. Thus you can make new friends every day. You can gather a lot of experience under people's demands, enhancing your professionalism.
What can you expect from barbering courses?
To become a barber, you need to get trained. Barbering courses can make you a skilled barber. Though you will not achieve skill at first, you will be an expert after working for a few months.
Barbering courses will let you know the rules of a barber; they will guide you to become a professional barber. You will learn about basic rules that you will learn from the barbering courses.
1) The history of barbering- Barbering is an old profession in the world. In ancient Egypt, barbers often doubled as religious priests. People show high respect for them. There was an existence of barbers in every country.
"Barber" comes from the Lattin word "Barba", which means beard. Even nowadays, barbers are highly demanded by the people. Because cutting the hair and beard is always very important for men.
2) Health and safety- As a barber, your first priority will be your client's health. You will work with shaving tools and hair cutting. If you do not know how to use them properly, you will hurt your clients.
Facial shapes are not the same for everyone. You need to practice a lot to gain skills. Not every client has the patience to sit a long time to cut their hair and beard. Some will hurry. So you need to achieve the skill to give them fast service.
If you give the best service to them, they will return to you repeatedly. You will achieve existing customers.
3) Infections- You will have to work for many people. Some of your customers might have infections. If you do not sanitize the tools properly, the customers will get infected.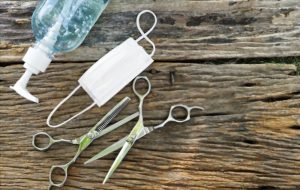 That will be not good for your reputation. So apart from your skill, you need to be careful and clean. You need to sanitize your tools and wash the aprons regularly.
4) Head and face shape- Not every haircut is for everyone. You have to cut your customer's hair so that it will fit them. You will also meet new people who will seek different hair cutting.
You need to know all the trendy hairstyles. If some clients ask for a hairstyle that will not suit them, you need to make them understand that this will not be a good option for them.
5) Hair Growth Patterns-  Every person's hair growth is different. Someone has volumed hair, or some have very thin hair. You need to manage every kind of hair. You need to cut their coat according to their choice.
6) Tools Used for Cutting Men's Hair- Various tools are needed to cut men's hair. Some instruments are- a hair clipper, flat-top comb, and trimming kit. Apart from that you, scissors and combs are always helpful for cutting men's hair. You have to learn the use of these tools.
7) Client Consultation- Some clients hesitate to cut their hair. They thought that the haircut would not suit their face. You need to understand their point of view as a barber.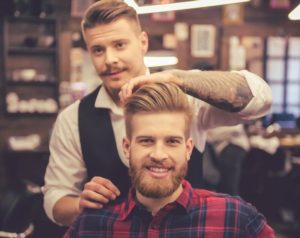 You have to guide them. You will assist the clients in picking up the right hairstyle. You can give your opinion as a barber but never force them to listen to your choice.
8) Scalp Massage- Apart from haircutting and beard trimming, clients will come to you for scalp massage. Scalp massage could be a temporary relief for headaches.
You need to learn how to massage the scalp. Inappropriate massage can lead to headaches, which will be not good for your reputation. So, learn scalp massage very well.
9) Cutting Techniques Used In Barbering- Techniques enhance your skill. A perfect haircut depends on your technique. So when you are learning a barbering course, try to adapt all the techniques very well.
10) Beard Trims / Designs- Beard styles enhance a man's personality like hairstyles. So learning beard trimming and designing is also essential. Beard styles such as Short stubble, french fork, duck tail, Van Dyke, and Verdi are trendy. Skilled up your ability by learning all these styles.
11) Beard Trim Using Clippers- Barbers use many tools for cutting hair. Cutting a beard also required many tools. Without these tools, you cannot provide the style your client wants.
12) Covid 19 Salon Safety Courses- You must learn how to take safety when you go for a barbering course in a pandemic situation. Because of this, people are cautious about sanitization and their safety. To run a successful barbershop, you need to focus on customer safety.
So, becoming a barber is not hard if you take a barbering course. So many online courses are available. These courses will save a lot of time.
FAQs
1) Can I become a successful barber from online barbering courses?
Yes, if you take a good course, it will help you become a successful barber.
2) Can I get a certificate from the online barbering courses?
Yes, you can get a certificate from an online barbering course.
3) Do I need a model to learn the online barbering courses?
You can use both doll heads and live human models, whichever you prefer.
4) Am I too old for barbering courses?
You can start a barbering course at any age if you are genuinely interested.
5) Do I have to take an exam to get a barber certificate?
Yes, if you wish to have a certificate, you must take a test.
6) Can I join any barber brand with an online certificate?
Yes, you can join any renowned barber brand with an online certificate.